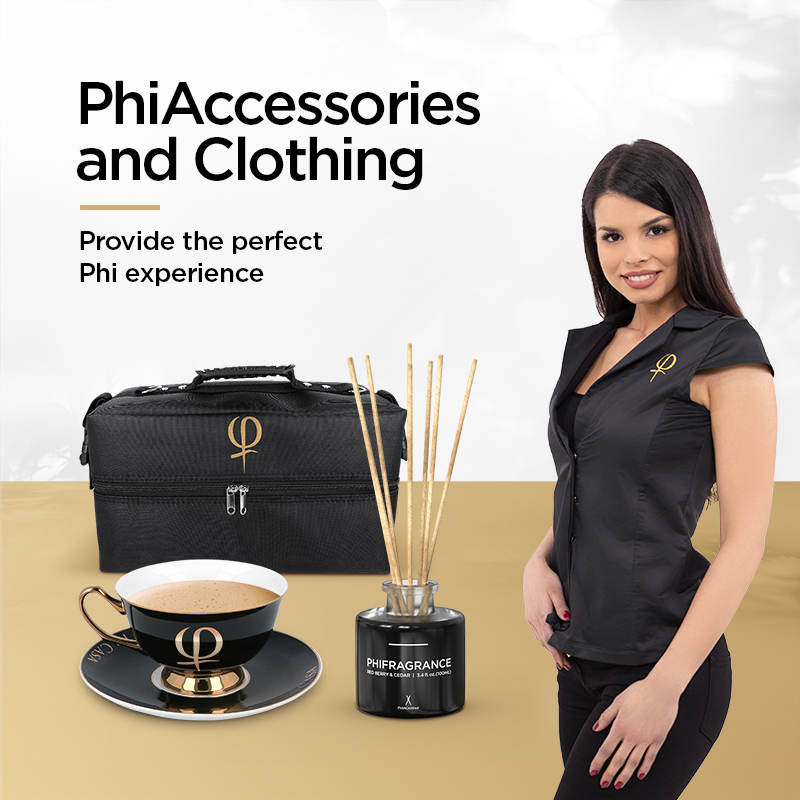 We all love beautiful things, that's why we do what we do! In fact, we always strive for perfection & extraordinary beauty for our clients. Why not do the same for our salon, professional wear and customer service?
With Phi Accessories and Clothing you create a special experience in your salon, not only with your treatment but also with the whole atmosphere!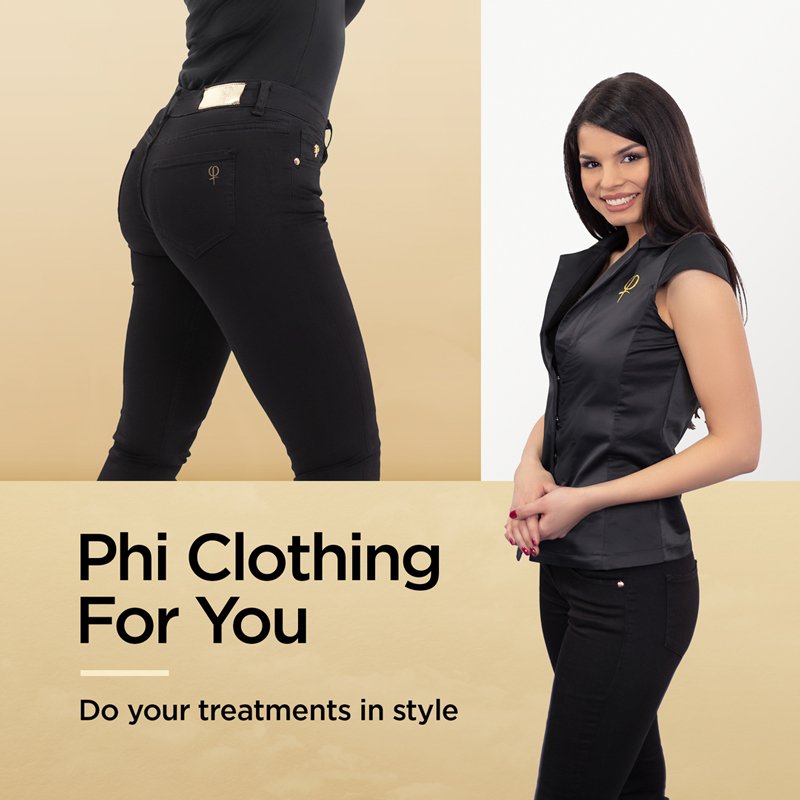 Are you a proud member of the Phi Family?
Let your clients notice & make yourself feel even more beautiful in your work. Customer is king, but so are you!
Phi Uniform 2.0
Never forget how hard you have worked to reach your goal. Your training, effort, time, models and clients. The Phi Uniform with a golden logo reminds you every day that you are now proudly doing what you love!
Size: XS – XL
Colour: Black, White
Phi Jeans
Start every treatment dressed simply but in style!
Matching the Phi Uniform, there are now black jeans with golden details and a small logo on the back pockets.
Phi Belt Black
Phi from head to toe!
Of course, a black belt with a golden logo definitely has to be part of the every-day-style in your beauty world.
PhiBrows Apron
Protect your uniform from pigments and other liquids with this cotton apron. Wash & use it as often as you want. To match the rest of your outfit, this apron also features a gold logo.
Phi Bottle
During our work, we often forget to drink. This bottle is a regular reminder and a stylish companion!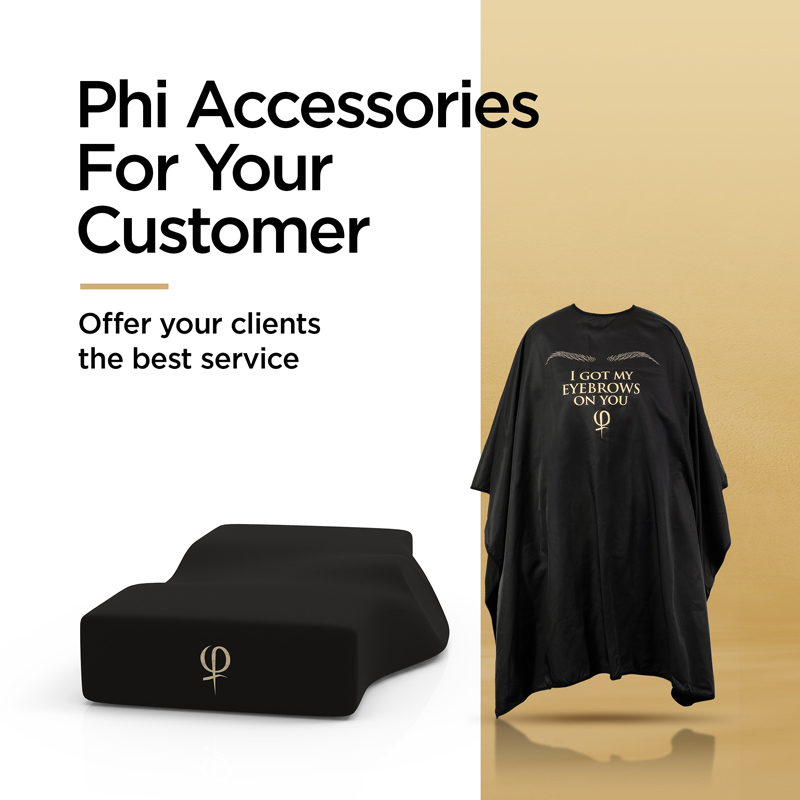 You not only want to offer your clients the best treatment, but also an enjoyable experience.
Make your customers feel comfortable and special, they will remember your salon and will be happy to come back soon!
PhiBrows Headband
Provide the client with a comfortable PhiBrows Headband during the treatment. It will help to keep the area to be treated free of hair and ensure a flawless result.
Cosmetic Capes
Use our protective microfibre capes in your salon for various cosmetic treatments:
Available in different prints:
PhiBrows Towel black
Provide your salon clients with luxurious and soft cotton towels. As well as being beautiful, they are also very functional, durable and absorbent!
Phi Pillow
Phi Pillow is a specially adapted memory foam pillow suitable for clients undergoing various treatments.
It provides maximum comfort for your customer's head to achieve complete relaxation during the procedure.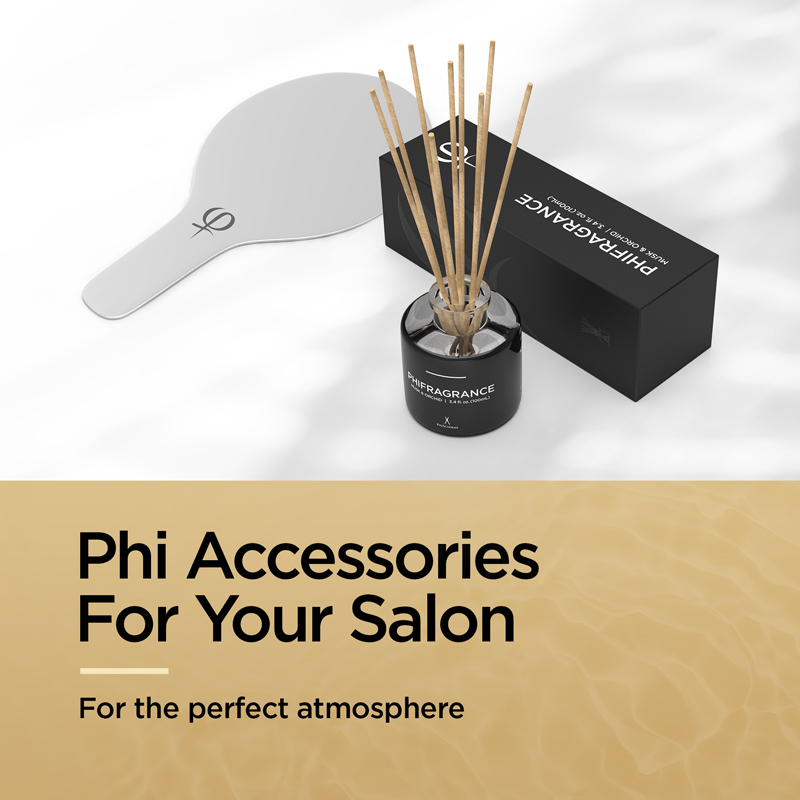 Create a pleasant atmosphere in your beauty salon with our Phi Accessories. It's the little things that can make a big difference.
Phi Cups
Our coffee or tea cups are a real eye-catcher in the reception area of every Phi salon! They provide a sense of belonging for customers to the Phi world.
Phi Case
The Phi Case is designed for easy transport or storage of various Phi products. The elegant design with golden logo makes the case something special and very professional.
You even get an own space for your business cards!
PhiFragrance
We forget things and people, but we remember a fragrance a very long time. So leave a pleasant memory in your customer's mind with our aromatic scents.
Available in three different fragrances:
Sea Salt
Musk & Orchid
Red berry & Cedar
Phi Mirror
Use the portable PhiMirror before, after or during treatments for your customers. Always keep it close by – it is very light but totally stable.