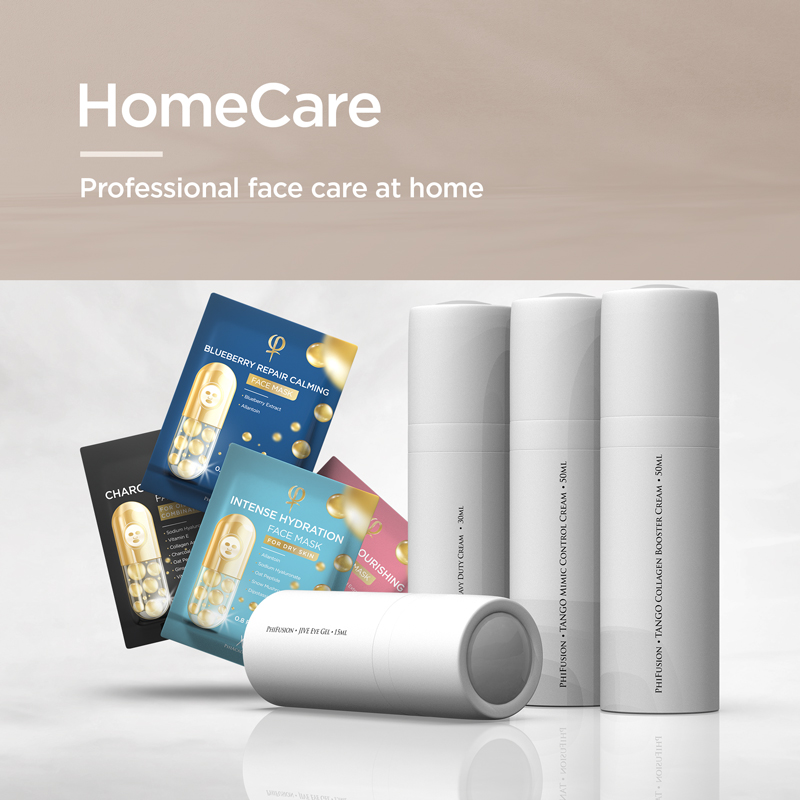 Offer your clients not only the best experience in your salon, but also give them some HomeCare to complement your treatments at home. That way, their skin will be ready for the next appointment!
Get to know our home care products a little better here:
Inspire your customers with the new nourishing Phi face masks!
Sometimes a good face mask is everything you need to feel fresh and regenerated.
Dry, oily, or irritated skin?
Our various face masks are specially developed to suit the needs of your customers!
Discover the quartet of our new skincare line for every skin type now!
Blueberry Repair Calming Face Mask
Your customers complain about irritated skin caused by sun, wind or other environmental influences?
Give them the opportunity to try the new Blueberry Repair Calming Face Mask, which has a pleasantly cool effect on the skin.
Together with allantoin, which is known for its repairing qualities, the mask gives your skin a healthy appearance.
Charcoal Purifying Face Mask
What if your customers could get fresh and clear skin – in just 15 minutes?
The Charcoal Purifying Face Mask contains
natural charcoal,
vitamin C and
viamin E.
These ingredients help to remove impurities from the skin and regulate the skin's moisture-oil balance.
They clear blocked pores, absorb toxins, reduce skin aging and ensure flawless and clear skin!
Collagen Nourishing Face Mask
Your customer is king!
Through the Collagen Nourishing Face Mask, which protects and repairs the skin with hydrolyzed collagen, your customer can feel like a king for at least 20 minutes.
The formula helps to rebuild strength and elasticity and reduces the appearance of fine lines and wrinkles.
Intense Hydration Face Mask
Would you like to offer your customers the perfect face mask for dry skin?
The Intense Hydration Face Mask maximizes the skin's moisture level.
Hyaluronic acid and
natural ingredients
refresh the skin and provide dry areas with an extra portion of moisture.
Let your customers shine!
Start now to regenerate and nourish your skin and let it glow.
The good thing about the PhiFusion range is: there is something for every skin type!
Jive Eye Gel
A nourishing eye treatment gel with cooling effect, able to decrease puffiness, dark circles and tired looking skin.
Green tea, provides extreme protection from environmental and oxidative stress
Hamamelis and cucumber extracts calm down the skin and provide the needed hydration.
Keep your eye area rested and healthy despite a busy lifestyle!
Jive Heavy Duty Cream
Perfectly balanced skin protective formula with UVA and UVB skin protection. Protects the skin from UV damage, which can induce serious skin pigmentations, fine lines to deep wrinkles and skin spots.
Ideal for those with intense outdoor lifestyle or extremely sensitive skin, who need a cream which will offer maximum sun protection.
Tango Collagen Booster Cream
Advanced care for mature skin: rich age defying formula which slightly lifts the skin and improves the skin texture.
What makes this formula unique is the high amount of potent bio peptides, which indicate collagen production in order to diminish the fine lines by inhibiting muscle contraction.
Rich with coenzyme q10 & hyaluronic acid
Suitable for every skin type
Tango Mimic Control
This cream has amazing moisturizing benefits, acting both ways anti aging and anti skin imperfections. It soothes and hydrates the skin and reduces imperfections as redness, dry patches, inflammations, pimples or irritations.
Rich with allantoin extract which has amazing wound healing and skin smoothing benefits.
The formula ensures excellent wound healing and leaves the skin flawless.
For dry, oily & problematic skin!